Regular price
Sale price
$45.99 USD
Unit price
per
Sale
Sold out
Real talk. New parents don't want another cute onesie.
Give the gift of a comfy pumping experience instead, we can almost guarantee you'll be straight to the top of the bestie list.

Our gift cards are perfect for baby showers for the new mum who has everything (including the wipe warmer) but still finds pumping makes her feel like a cow.
Mum can choose from all of our goodies, including pumps, cushions or our mum-approved pumping essentials.
We'll help your mum friend / daughter / granddaughter get the comfiest possible kit when she's ready to order her pumping goodies, and we offer 30 days free returns from the date they receive their first cushion. Of course! 
How to clean it

Not recommended – online shopping and water don't mix.
10x softer than pump

30-day returns

95% say less pain
View full details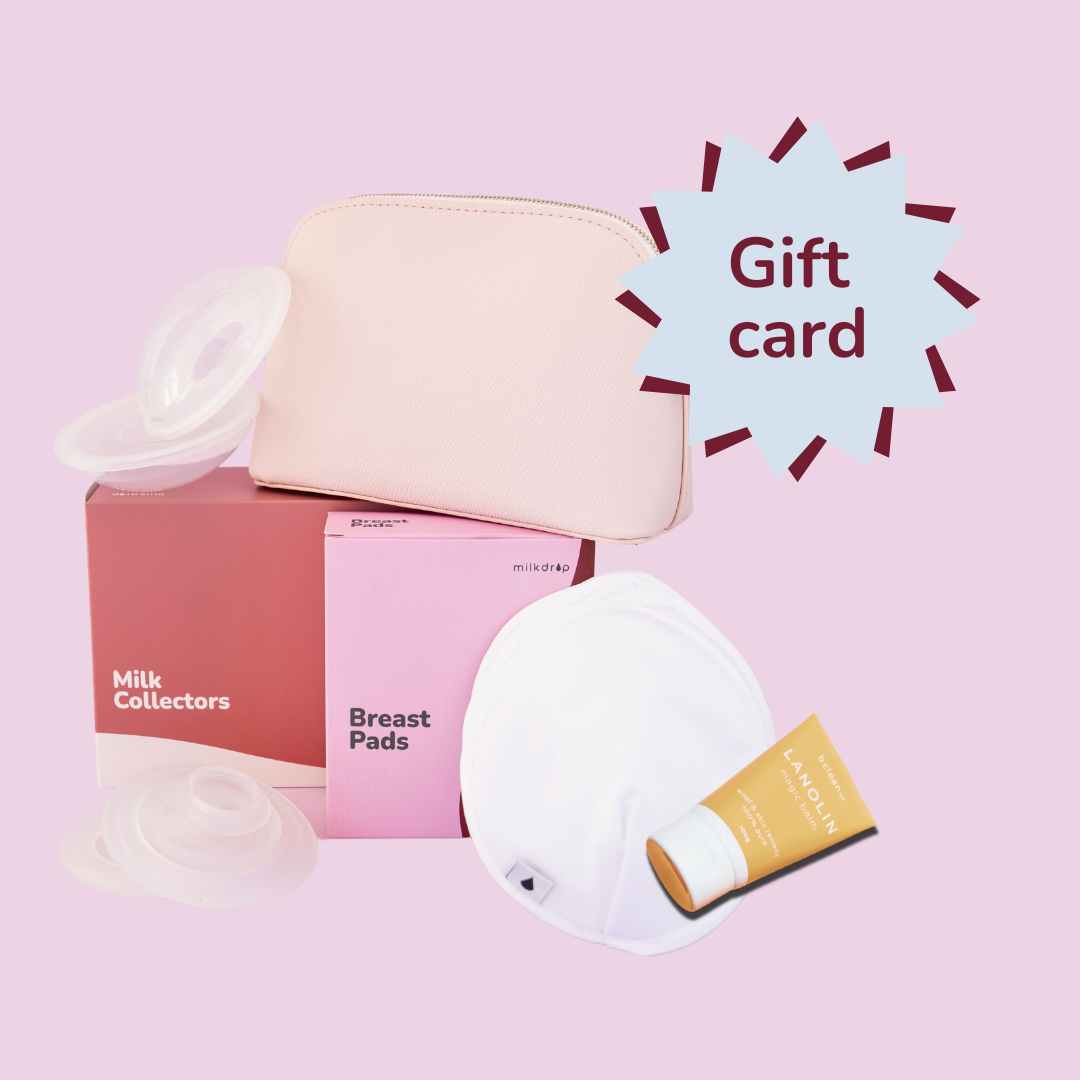 Did you know?
We have pumps coming too! If you're in Australia, our wearable pump has landed. If you're in the US, watch this space!
Example product title
Regular price
Sale price
$19.99 USD
Unit price
per
Sale
Sold out
View full details
Let customers speak for us
10x softer than your pump

95% of women find pumping more comfy

Risk-free returns for 30 days on your first order
These cushions are pricey right?
Nope. Most "cheap" cushions need replacing after 4-6 weeks and are made from lower-quality silicone. Milkdrop cushions only need replacing after 4-6 months. And they're medical grade, which is safer for your nipples and your baby.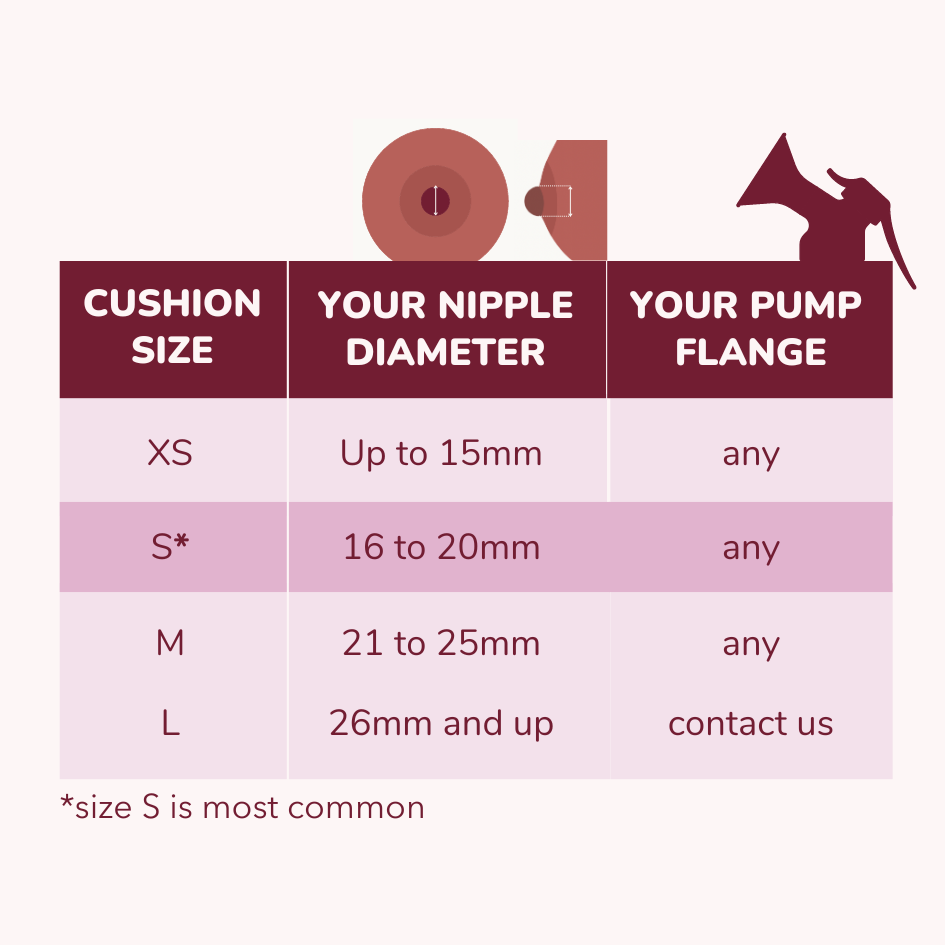 Sizing
Milkdrop cushions come in 4 sizes (although most people fit a small).
Here's how to measure your nipple (not your flange or your areola).
Don't have a tape measure handy? Start with a size small or contact us support@milkdroppumps.com. We're happy to help.
Take the size quiz
Still not sure?
Try risk-free for 30 days with free returns on your first cushion set.
Maybe you're wondering
Which size am I?

Take the cushion quiz to find the right cushions for your nipple and your pump.

Most people fit a S (16-20mm), but if your nipple is smaller (less than 15mm across) or larger (more than 21mm across), reach out to us on support@milkdroppumps.com and we'll help you get the right size.

Remember to measure your nipple, NOT your flange or your areola, to find the right size cushion for you.

Find out how to measure your nipple here.
Will Milkdrop fit my pump?

Milkdrop fits:

Ameda
Ardo
Bellababy
Eonian
Evenflo
Lansinoh
Medela
Motif
New Beginnings
Nuk
Philips Avent
Pigeon
Spectra
Tommee Tippee
Unimom
Youha
Zomeee

Milkdrop XS, S and M fit any pump flange sizes.

If you don't have elastic nipples, then use the cushion on the standard flange your pump came with (usually 24mm).

If you do have elastic nipples, then you need to use it with a sizing insert or a smaller flange size to bring down the width of the pump tunnel to match your nipple.

If your pump flange is XL (30mm+), you will need Milkdrop L cushion. Please contact us for extra help with this.  

Haven't mentioned your pump? Oh no! DM us on instagram @milkdrop_pumps or email us at support@milkdroppumps.com
How many are there per packet?

There's just one cushion per packet. We do this because you might need a different size for each breast. If you want to order two, make sure to use the code at checkout for your discount.
How do I clean it?

Wash Milkdrop as you would any other breast pump part - with warm soapy water, rinse then air dry. Or pop in the dishwasher. You can also steam sterilise, sanitise or boil without degrading the silicone. We recommend following the FDA breast pump cleaning guidelines.
How long will it last?

We designed Milkdrop to last for 4-6 months, depending on how often you pump. Why? We want to avoid environmental waste, and save you from repurchasing replacements every few weeks, which gets expensive in the long-run. Silicone is recyclable, just not in your average, local recycling centre. When you're finished, please send back to us, and we'll include it in our batch recycling scheme.
Is it safe for my skin and my baby?

Milkdrop is made from the highest grade silicone, which is medical-grade silicone (not just food-grade silicone). It's gentle on your skin, and your baby. Make sure you wash it after you use it, using the guidelines above.
Do you do returns?

Yep! Every woman is different. We have a 30-day risk-free trial period on your first set. If you are having trouble with the cushion for any reason, please contact us at support@milkdroppumps.com. We would like to understand more and may have some tips that will help, but we will also arrange a return and refund, hassle-free, on your first order. Please return the cushion washed and the packaging intact.