Milkdrop Clinician Program
Welcome! We're thrilled you're interested in joining the Milkdrop Clinician Program.
This page provides more information for Lactation Consultants, Midwives, Doctors and Physical Therapists on Milkdrop cushions, including clinical observations, medical device registration and usage.
About the program
Join a growing community of clinicians who are finding Milkdrop helpful for making pumping more comfortable and sustainable for their clients. 
When you join the program you will receive:
A sample Milkdrop cushion in your choice of size (XS, S, M) for you to check out
Educational materials on how to use the cushion
A unique discount code for your clients
Potential giveaway opportunities to expand your audience reach
FAQs
Who is Milkdrop?

We are a small team of Australian engineers and designers, led by Alex, who pumped to feed her daughter. We are working on making pumping more comfortable, and trying to innovate around how flanges fit and adapt to the breast. We'd love to hear from you, and learn about what you see (and think might help) in your practise!
What is the Milkdrop cushion?

The cushion is a soft silicone cushion that stretches over the head of most traditional breast pumps (and soon for new 'wearable' pumps too).

It is designed to provide a softer interface between the breast and the existing breast pump. 
Why did you design it?

Whilst feeding at the breast is typically clinically preferable to using breast pumps, a majority of women own or use a pump to express milk (Johns et al 2016, Clemons & Amir 2010, Labiner-Wolfe et al 2008).

There are benefits to using breast pumps; however, nipple pain and damage have been identified as adverse effects, occurring at a rate of about 15-17% (Qi et al 2014, Clemons & Amir 2010).

We designed the cushion with the objective of reducing nipple pain and discomfort by softening the interface between the breast and the pump, whilst allowing the nipple and areola to move more freely within the pump.
Getting good flange size is enough, why use a cushion too?

Getting the right flange size can make a big difference to comfort and milk flow, however even with the 'right' flange size, people can still experience discomfort or pain.

In addition, a flange is still one hard piece of plastic or silicone that forces the nipple to conform to its shape and rub against it.

The Milkdrop cushions have a (patent pending) ribbing on the underside, which has a shape, softness and flexibility to allow the nipple to move with the cushion as the pump suction is on. It can feel more comfortable and more natural for some people!

The cushions can also be helpful for people who are between sizes. They are more forgiving than harder flanges, because they are so soft, and they mould more easily to the woman's shape, even as her nipple changes through lactation.
How is this different from other cushions?

Firstly, the cushion is softer and more flexible than others. It measures 10A on the Shore Hardness scale, making it 3-4x softer than existing breast pump cushions and over 10x softer than existing breast pump heads. This softness allows it to be more flexible and mould to the shape of the nipple.

Secondly, the cushion is designed with a series of ridges, which roll over when the pump is on, and allow the nipple and areola to move within the pump flange, rather than be pressed against it. This may be one reason for lower swelling and chafing that we had seen in our pilot.
Is the cushion clinically evaluated?

Milkdrop is currently being evaluated at a birthing hospital in Australia.

While we wait for the feedback from that study, we can share the initial observations from a pilot study of the cushion in 2021, which found: 

92% of women found pumping more comfortable
comfort increased (score: 5 /10 to 9 / 10)
nipple swelling decreased (score: 6 /10 to 0 /10)
nipple swelling decreased (6 /10 to 0.5 / 10), redness decreased (6 /10 to 0.5/10) and damage decreased (4/10 to 0/10) for women identifying as having an uncomfortable pumping experience.
73% of women collected about the same or more milk.

Based on the results of this study, we adjusted the design to remove the bulk from the cushion, and have improved the proportion of women collecting the same or more milk to about 85-90%.
Does the cushion affect milk volume?

Most women will see an increase in comfort and little change or an increase in milk volume. However, about 10% of women will see less milk flow and volume - they will need to stop using the cushions to maintain their supply if exclusively pumping. We offer full refunds for women experiencing problems with the cushions.
Can it be used between clients?

The sample set we send you can be used to size clients in your practice. Please clean according to FDA guidelines for breast pump part washing, and disinfect as you would other reusable pump parts. The cushions will last 4-6 months before needing replacement.
Can you help my clients with a discount?

Yes! We'd be happy to set you up with a discount. Although the cushions are expensive up front, they last much, much longer (4 to 6 months, rather than 4 ot 6 weeks). For people who pump for some time, they are cheaper in the long run and are less wasteful. Buy once, buy well.
Is it manufactured safely?

Milkdrop is registered with the FDA and the ARTG (#352892) as a Class I medical device.

It is manufactured with medical-grade silicone and strict quality control. It is appropriate for use on broken skin and for infants to ingest milk that has come into contact with it.
Do you do wholesale pricing?

Yes! Please read here for details on how to provide cushions for your clients in your clinic, on your website or through referrals.
Try a set of cushions in your clinic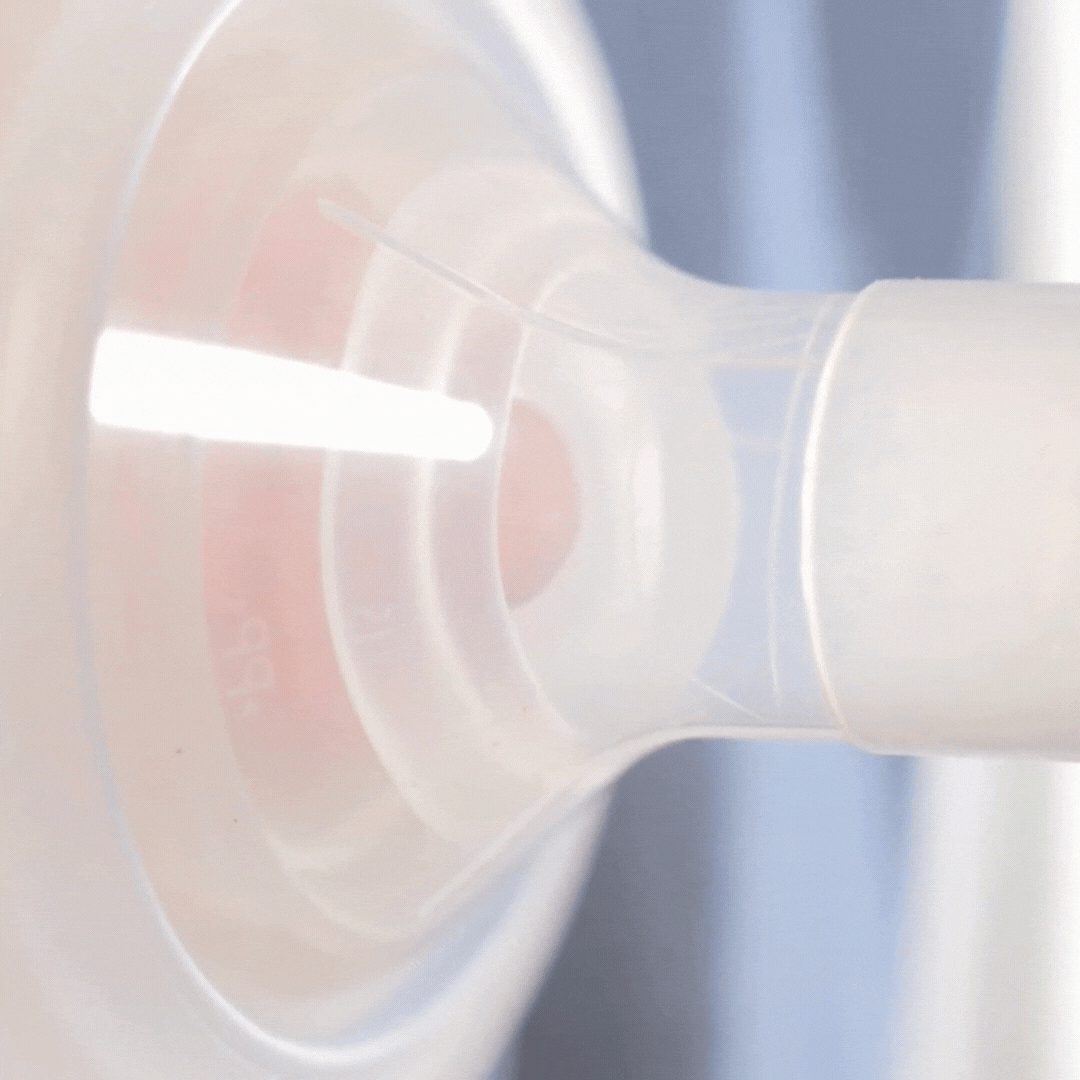 How it works
This video shows how the cushion moulds to the nipple shape. It allows the nipple to draw through, but the areola to stay supported (although still moving). Notice how the cushion compresses as the pump sucks. This cushion is placed on a standard flange (24mm). Even though the flange is too wide for the nipple, the cushion is providing support.